Gastronomical days and events

Gastronomy has a special place on Soria´s  events calendar. Therefore, over the twelve months different workshops and gastronomic events that are gradually placing our products take place – perfect and tasty ambassadors of our land in the place they deserve, that keep alive the culture of good food and encourage their knowledge and dissemination. Thus, the days of the Mycological Tapa, Tapa de Soria and Truffle, are held, among others.
DAYS OF BLACK TRUFFLE SORIA
There are many restaurants in the capital and the province participating in this conference. Offering gourmet menus dedicated to the Black Truffle of Soria, called the 'black diamond' of the kitchen. This is a joint action and a commitment to quality and excellence in dishes, one of the best proposals if what you want is culinary tourism as menus or tapas you can taste the best black truffle.
MERCATRUFAS
A market and a meeting point between truffle growers and product final consumer where you can buy fresh and take the advice and know-how of specialized technicians in this field to differentiate the different species, quality, aroma. There is also an exhibition of different species, tasting tapas made with truffles, informative talks on its culinary uses, secrets, habitats, etc.
PUERCOTERAPIA
Concurring with the time of the traditional "Matanza", usually at the end of the coldest months of the year, this day is composed of diverse educational and recreational activities around the culture of pork in the province of Soria. 'Puercoterapia Soria' includes workshops dedicated to handling and processing of pork, and among the featured events of the day include a pig's live butchering to produce all kinds of viands. Loins fillings, minced, skewered mask... are produced in situ and then the charity auction of the meat of a pig is carried out.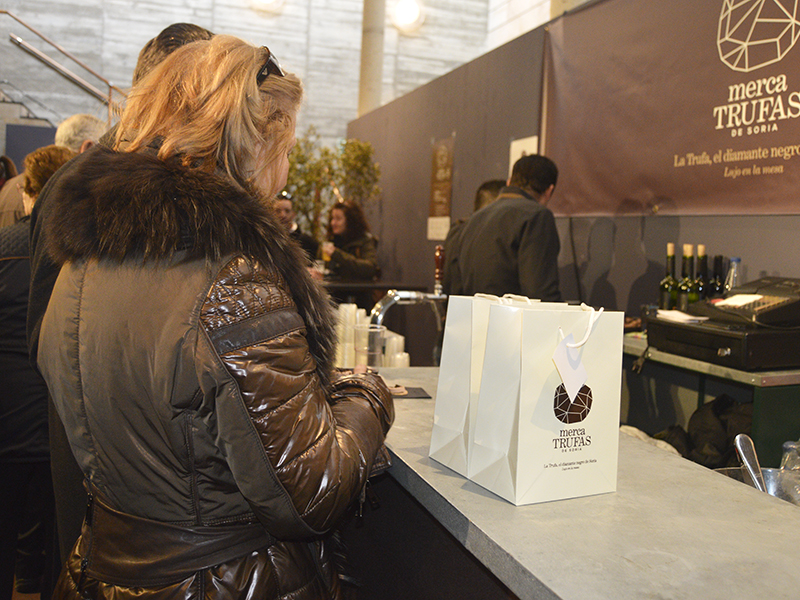 WEEK OF THE TAPA OF SORIA
To promote our products and complete the interesting cuisine of our restaurants, celebrating the arrival of good weather, and consolidating our city as a gastronomic destination throughout the year, these days combine gastronomy in small format and affordable prices. The establishments in the city offer their tapas with seasonal products of Soria; the quality and originality are guaranteed.
"SORIA GASTRONÓMICA"
Consolidated gastronomic event in which every two years teachers gather in different disciplines such as cooking, science, business, communication etc … sharing their knowledge, in order to get the attention of all those interested in mycology and tourism. This event puts Soria and Castilla y Leon to  in the mycological mycotourism epicenter and where are plenty ascertained attractive and properties of a raw material in which Castilla y Leon, specifically Soria, is highly producer.
Pedro Mario and Oscar Pérez, restaurant the Hermit (Benavente), during his speech at the Third International Congress of Mycology Soria Gastronómica.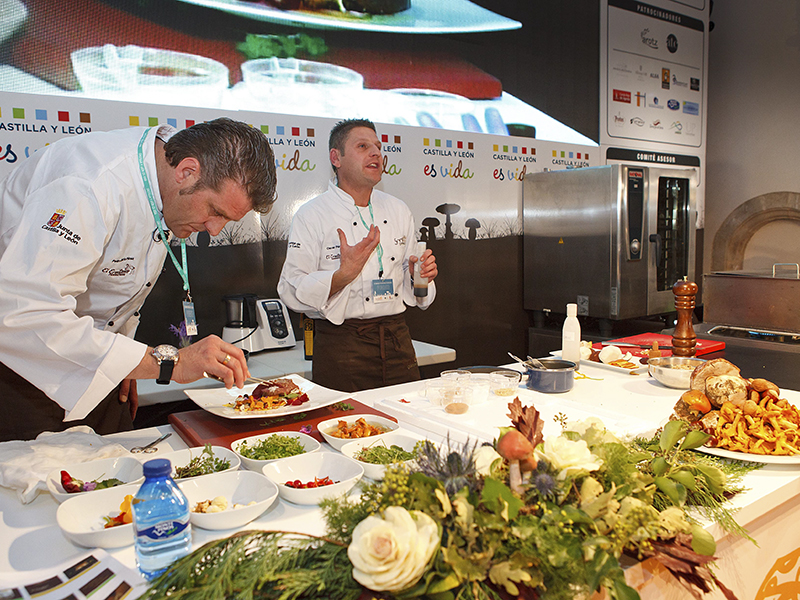 Each edition of "Soria Gastronómica" puts our capital in the core mycological gastronomy as it brings together reknowned chefs and the best in the country, and some from abroad, mycological, teachers in handling and mushroom mixture of high quality cuisine, truffle growers and research centers among others.
MYCOLOGICAL TAPA WEEK
Popular among sorianos and also among many of the tourists who visit us these days, as each year there is a growing number of people interested in knowing our mycological wealth and in tasteing the wonders presented by more than 50 participating establishments.
Every year in the middle of the mycological season, these days in which you can taste small delicacies prepared from mushrooms and fungi are celebrated: boletus edulis, trumpet of death, níscalo, Amanita Caesarea mushroom thistle, among others, put the taste and the aroma of these true minimalist delicacies.
In addition, workshops for participants, tapas and restaurants on developing and identifying mushrooms take place.
MERCASETAS
Free event and open to all audiences interested in mycological products can find a mushroom exhibition, lectures, workshops and a freshly picked mushrooms market where you can find these products with all legal guarantees.
Similarly, mycology linked to cuisine, with tapas for everyone, simple and healthy savoring these delicacies collected directly in our forests.