Easter week in Soria
The Holy Week of Soria finds its origins in the ancient Veracruz, a penitential brotherhood of more than four hundred and fifty years, that in the nights of the sixteenth century came to give Christian burial to the prisoners executed under the porch of the hermitage of La Soledad.
Declared Regional Tourist Interest Festival, among other reasons for being the only one to follow with chronological precision what happened during the Passion of Christ.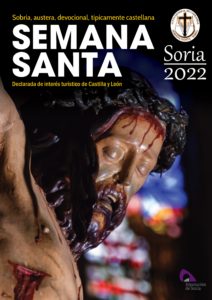 Cofrades, steps, carvings and citizens take to the streets to participate each year in this important social, cultural and religious tradition. The city becomes a great stage through which an argument reckoned with great coherence and beauty. Thus, through the different steps and episodes that happen every day parade through the streets and squares the different biblical passages recounting the Death and Resurrection of Jesus. As a backdrop, a city more austere and quiet, more collected than ever, where the sound of drums and trumpets with carvings at the height of great Castilians and of great artistic value as the Christ of the Humilladero ( S XVI) of the Hermitage of the Solitude, in scenarios of exceptional beauty through great jewels of the Romanesque like Church of Santo Domingo.
More info: www.semanasantadesoria.com